International Master's programme Biodiversity Sciences
---
Programme Goals
Biodiversity forms the foundation for all ecosystem functions and human well-being on Earth. In the last decades, we have encountered a dramatic loss in and restructuring of biodiversity. Biodiversity Science provides the scientific basis to quantify the state and change of biodiversity across space and time, to understand the underlying evolutionary and ecological processes as well as the consequences of biodiversity change for ecosystems and humans. Finally, as biodiversity and its change are strongly linked to society, the programme has a strong interdisciplinary component, addressing the options of how biodiversity can be maintained and integrated into the management of our planet's resources.
To achieve this goal different disciplines are engaged in the international master's programme Biodiversity Sciences, ranging from organismic to molecular sciences in biology, biogeochemistry, bioinformatics and landscape ecology.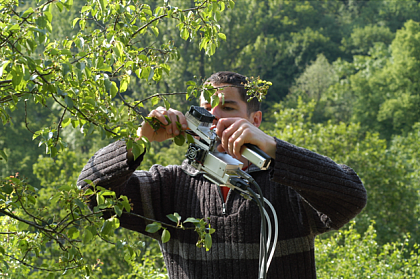 Measuring photosynthesis on drought-tolerant species in Halle (Photograph: Helge Bruelheide)
Cherry pollination experiment in one of the orchards in Saxony-Anhalt in 2020 (Photograph: Robert Paxton)
The MSc programme Biodiversity Sciences is specifically designed for degree holders in biology, ecology, biogeochemistry, landscape ecology, natural resource management, bioinformatics and related disciplines. The course has a strong focus on research. Other important study goals are interdisciplinary knowledge, communication and teamwork skills. In addition, in-depth courses are offered in all contributing disciplines. It is expected that all applicants have a basic knowledge in organismic biology. Finally, degree holders will be able to carry out scientific work and critically evaluate scientific results in a responsible and independent manner. The international character of scientific research, which is dominated by the English language, is taken into account by the fact that the study programme is carried out entirely in English.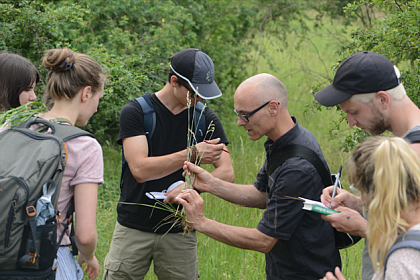 Student course on critical grass taxa (Photograph: Helge Bruelheide)
Benefits
The study programme is embedded in numerous research projects carried out at Halle University. The course lecturers in this programme are the world leading experts in species identification and taxonomy, biodiversity monitoring programmes, regional and global assessment reports (e.g. IPBES) and integrated scenario development. There is a high number of research platforms that are open for students' projects (BEF-China, Ecotron facility and Global Change Experimental Facility in Bad Lauchstädt, zoological and botanical collections, top laboratories in all types of molecular biology).
Together with its partner universities Leipzig and Jena, Halle University jointly runs the German Centre for Integrative Biodiversity Research (iDiv) Halle-Jena-Leipzig. iDiv is a research centre funded by the German Research Foundation (DFG), with four of the nine core professors being affiliated to Halle University. iDiv is a global hotspot in biodiversity science, with about 800 scientists in Central Germany working jointly and across disciplines on the key questions of biodiversity science. Another partner of iDiv is the Helmholtz Centre for Environmental Research (UFZ) with research institutes in Leipzig and Halle, which is the biggest federal research institute in the field of ecological and environmental research. This environment offers all types of topics for master theses and internships, as well as for subsequent PhD theses. With iDiv's international network, internships and study stays abroad can be efficiently supported.
Students also profit from course programmes of the two partner universities in Leipzig and Jena. Courses taken there are credited also in Halle and vice versa.
The study programme will be limited to 30 students per year. This small course sizes will allow strong interactions with the course lecturers. In addition, a mentoring programme will make sure that every student is assisted in achieving her/his potential personal career goals.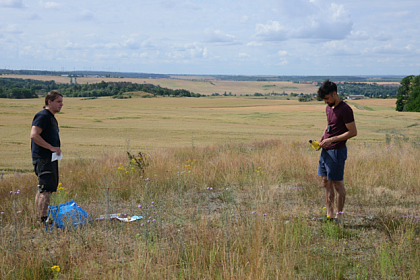 Resurvey of dry grasslands plots on prorphyry outcrops north of Halle in 2020 (Photograph: Helge Bruelheide)
Career Opportunities
The programme qualifies for positions in research and applied fields:
Basic research on all aspects of biodiversity
Subject-specific teaching tasks
International development cooperation on biodiversity conservation.
Private sector: consulting, management and planning.
Public sector: biodiversity monitoring and administration.
Political consultancy
The programme also qualifies for PhD positions.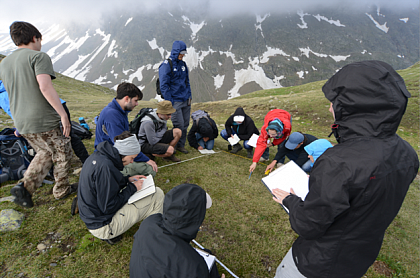 Field ecology course in the Austrian Alps in 2016 (Photograph: Helge Bruelheide)
Modules
The content, learning objectives, workload, requirements and prerequisites of specific modules are detailed in the module catalogue and in the study and examination regulations, respectively.
| Module | CP | rec. sem. |
| --- | --- | --- |
| Compulsory modules (75 CP) | | |
| Design of research studies | 5 | 1 |
| Statistics in Biodiversity Science | 5 | 1 |
| Excursions in botany and zoology | 5 | 1,2,3 |
| Research internship | 15 | 2,3,4 |
| Project study | 15 | 3 |
| Master thesis | 30 | 3/4 |
| Compulsory optional modules (45 CP) | | |
| Methods of Systematic Botany | 15 | 1/2 |
| General Zoology | 15 | 2/4 |
| Field Ecology | 15 | 2/4 |
| Nature Conservation | 15 | 2/4 |
| Spatial Ecology and Modelling | 15 | 1/3 |
| Molecular Ecology | 15 | 1/2 |
| Collections and Biodiversity Research | 5 | 1/2/3 |
| Spatial modelling, Scenario Development and Impact Assessment | 15 | 1/3 |
| Modelling species distribution and biodiversity patterns | 15 | 1/3 |
| Soil Biogeochemical Analyses | 5 | 1/2 |
| Matter and material flow analysis | 5 | 1/2 |
| Management of soil organic matter | 5 | 1/2 |
| Statistical Data Analysis and Machine Learning in Biodiversity Research | 5 | 2 |
| Computational Transcriptomics | 5 | 2 |
| Computational Molecular Phylogenetics | 5 | 2 |
| Computational Sequence Analysis | 5 | 2 |
Admission Requirements
For the admission requirements see
https://studienangebot.uni-halle.de/biodiversity-sciences-master-120#zulassungsvoraussetzungen
Decisions on compliance with the prerequisites are taken by the study and examination board of the programme.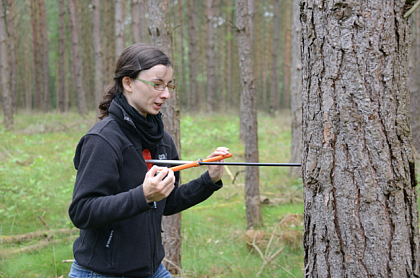 Taking wood cores in the Müritz National Park (Photograph: Helge Bruelheide)
Application/Enrolment
The admission to the MSc Biodiversity Sciences (120 CP) is currently restricted (Uni-NC). Admission is only possible for the winter semester. In total, 30 new students can be enrolled every year. There are no tuition fees, but a social contribution, i.e. a semester fee, which also includes a semester ticket for local public transport, see https://immaamt.verwaltung.uni-halle.de/studium/semesterbeitrag/).
For deadlines and details of applications including the required documents see
https://studienangebot.uni-halle.de/biodiversity-sciences-master-120#bewerbung-einschreibung
The selection committee draws up a ranking list for the selection decision. The selection is made on the basis of selection criteria. For the selection decision, a maximum score of 140 admission points can be achieved, which is determined on the basis of the evaluation of the following selection criteria: a) the overall grade (GPA) in the bachelor's degree programme,b) elective modules in the Bachelor's programme that fit with the specialisation of the MSc programme, c) the topic of the BSc thesis in the field of biodiversity sciences, and d) additional qualifications relevant for the master's programme.
a) With regard to the GPA, admission points are calculated as follows: A maximum of 100 and a minimum of 40 admission points are awarded for your bachelor's grade point average, inversely proportional to the grade between 1.0 and 4.0 (points = 120 - grade * 20).
b) Up to 10 admission points can be granted for elective or compulsory modules taken during your bachelor's studies. Please provide a modules overview and state how they fit with the MSc programme. Admission points can be awarded for up to three modules with a clear focus on biology, ecology, biogeochemistry, landscape ecology, natural resource management and bioinformatics (1 point per 5 ECTS points). Modules in which these topics only played a marginal role, were introductory events or voluntary excursions are not eligible for credit.
c) 10 admission points can be awarded for a bachelor's thesis in the area of biodiversity science. Please provide a half-page summary your bachelor's thesis (submitted or ongoing).
d) 20 admission points can be awarded for relevant additional qualifications. Examples of relevant additional qualifications are: Long-term engagement in nature conservation associations or scientific societies, special taxonomic knowledge and civic activities in the field of biodiversity, programming skills, completed training in relevant occupations (e.g. gardener, forest manager, farmer, animal keeper, ranger, lab technician), and voluntary internships in a relevant field (preferably also abroad).
Applicants are ranked according to the sum of the admission points obtained.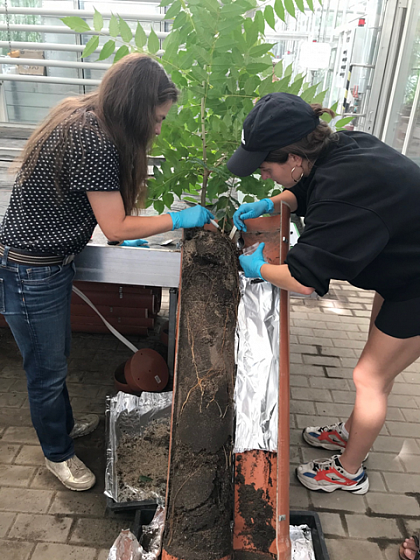 Taking exudate samples in the TreeDì root interaction experiment in 2020 (Photograph: Sylvia Haider)
---
---