Lucrecia Lipoma, Ph.D.
---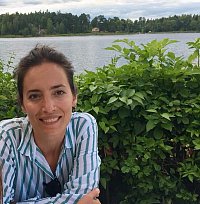 Contact
Lucrecia Lipoma, Ph.D.
room 2.02.0
Institut für Biologie / Geobotanik und Botanischer Garten
Große Steinstraße 79/80
06108 Halle (Saale)
[Research]
I am interested in understanding the mechanisms behind the response of terrestrial plant communities to different disturbances. My current project tries to identify which components of diversity can promote the resilience of plant communities. Specifically, I am developing a meta-analysis of studies that had evaluated resilience in plant communities to test whether different components of functional diversity are related to their resilience after disturbances. This project will contribute to the development of a common framework on the links between diversity and ecological resilience and will also highlight knowledge gaps in this area.
[Links]
[Publications]
---
---