Dr. Gabriella Damasceno
---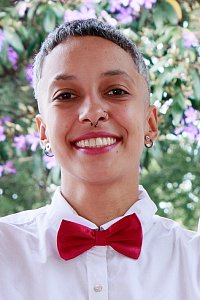 Contact
Dr. Gabriella Damasceno
room 2.02.0
Institut für Biologie / Geobotanik und Botanischer Garten
Große Steinstraße 79/80
06108 Halle (Saale)
[Research Interests]
I am an applied ecology with training in the management of tropical savannas, both as pristine ecosystems as well as in their restoration when invaded by alien plants.
Beyond that, I'm marveled by the possibilities big data platforms have been opening up for ecology. I believe that the integration of knowledge from distinct disciplines is crucial to solving the challenges biodiversity is facing, and integrating big data approaches with applied ecological questions is a promising pathway I see ahead.
[Curriculum Vitae]
2022 – present: Post-doctoral researcher

German Centre for Integrative Biodiversity Research (iDiv) Halle-Jena-Leipzig, Germany
Martin Luther University Halle-Wittenberg, Germany
Project: sPlot – The Global Vegetation Database

2018 - 2022: PhD in Ecology, Evolution and Biodiversity

São Paulo State University, Brazil
Thesis title: Invasion by African grasses and restoration of Cerrado open physiognomies: a state-and-transition approach

2015 - 2017: Master's in Ecology and Biodiversity

São Paulo State University, Brazil
Dissertation title: How fire at different times a year affect the relationship between invasive grasses and the Cerrado native vegetation?

2008 - 2012: Undergraduation in Biological Sciences

University of Brasília, Brazil
[Links]
[Publications]
García-Díaz, P., Montti, L., Powell, P. A., Phimister, E., Pizarro, J. C., ..., Damasceno, G., ... & Lambin, X. (2022). Identifying Priorities, Targets, and Actions for the Long-term Social and Ecological Management of Invasive Non-Native Species. Environmental management, 69(1), 140-153.
García-Díaz, P., Cassey, P., Norbury, G., Lambin, X., Montti, L., ..., Damasceno, G., ... & Tomasevic, J. A. (2021). Management policies for invasive alien species: addressing the impacts rather than the species. BioScience, 71(2), 174-185.
Damasceno, G., & Fidelis, A. (2020). Abundance of invasive grasses is dependent on fire regime and climatic conditions in tropical savannas. Journal of Environmental Management, 271, 111016.
Lambin, X., Burslem, D., Caplat, P., Cornulier, T., Damasceno, G., Fasola, L., ... & Verdugo, C. (2020). CONTAIN: Optimising the long-term management of invasive alien species using adaptive management. NeoBiota.
Damasceno, G., Souza, L., Pivello, V. R., Gorgone-Barbosa, E., Giroldo, P. Z., & Fidelis, A. (2018). Impact of invasive grasses on Cerrado under natural regeneration. Biological Invasions, 20(12), 3621-3629.
Dornelas, M., Antao, L. H., Moyes, F., Bates, A. E., Magurran, A. E., Adam, D., ... & Murphy, G. (2018). BioTIME: A database of biodiversity time series for the Anthropocene. Global Ecology and Biogeography, 27(7), 760-786.
---
---